Manchester Together: a resilient city
On Tuesday, the city of Manchester remembered the May 22nd Arena Attack by showing resilience and pride.
On Tuesday, Manchester remembered the horrific events that had occurred exactly a year before. Just minutes after Ariana Grande had performed her final song in the Manchester Arena on May 22, 2017, with a crowd of thousands, mostly young, enthusiastic supporters, an attacker linked to the Islamic State detonated his explosive device in the foyer of the venue. 22 people lost their lives that day, the youngest victim, Saffie Roussos, being just eight years old. A year later, the Mancunians came together in what they called a day of Reflection and Celebration of Life. I was there to see how the first anniversary was commemorated as part of my PhD Research.
It was a day full of expressions of pride and resilience, filled with symbols and speeches referring to the history of the city of Manchester and the character of its inhabitants. The symbol of Manchester is the worker bee, also known as the Manchester Bee, going back to its history as a working class cotton city. The Mancunians have the reputation to be hard workers who have known many hardships. All across the city on Tuesday, the bee was visible: hundreds of pebbles painted with bees, knitted bees, bee pins, bee paintings, bee T-shirts, bee flower arrangements and even people dressed up in bee costumes. A mother proudly asked me to look at the bee tattoo her teenage daughter got just hours before. A man gave me hands full of bee stickers to take home and add to my research. The bee was one telling example of a strong city identity. All over town were signs with I <3 MCR, some home-made, others sponsored by shops. The key slogan of the day was Manchester Together. During the screening of the remembrance service in Cathedral Gardens, a group of people walked past with signs readings "Turn to Love" and other messages of unity. They were welcomed with a spontaneous applause by those sitting in the gardens.
Image © Jeanine De Roy van Zuijdewijn
The other key theme was the resilience of the city. One of the main events of the day was the With One Voice concert, where 3,000 singers from local choirs performed in front of thousands of visitors. Several video messages were played, not by famous politicians or national leaders, but by a wide variety of Mancunian celebrities, such as members of The Smiths, Elbow, Oasis or Coronation Street and players from the rival Manchester football teams. They were almost all welcomed with a loud applause. The Bishop of Manchester mentioned that Manchester is a city of music, so the response should be one with music. Several groups of youngsters were seen wearing shirt or hoodies of Ariana Grande's "Dangerous Woman" Tour (when the attack took place), or the One Love benefit concert held in September last year. The Manchester Survivors Choir, mainly composed of young children who were there when the bomb went off, gave a moving performance. After "a minute of noise" rather than silence, the event was transformed into a mass "Sing Along", with songs such as Oasis' Don't Look Back in Anger and the atmosphere felt almost like that of a pop festival.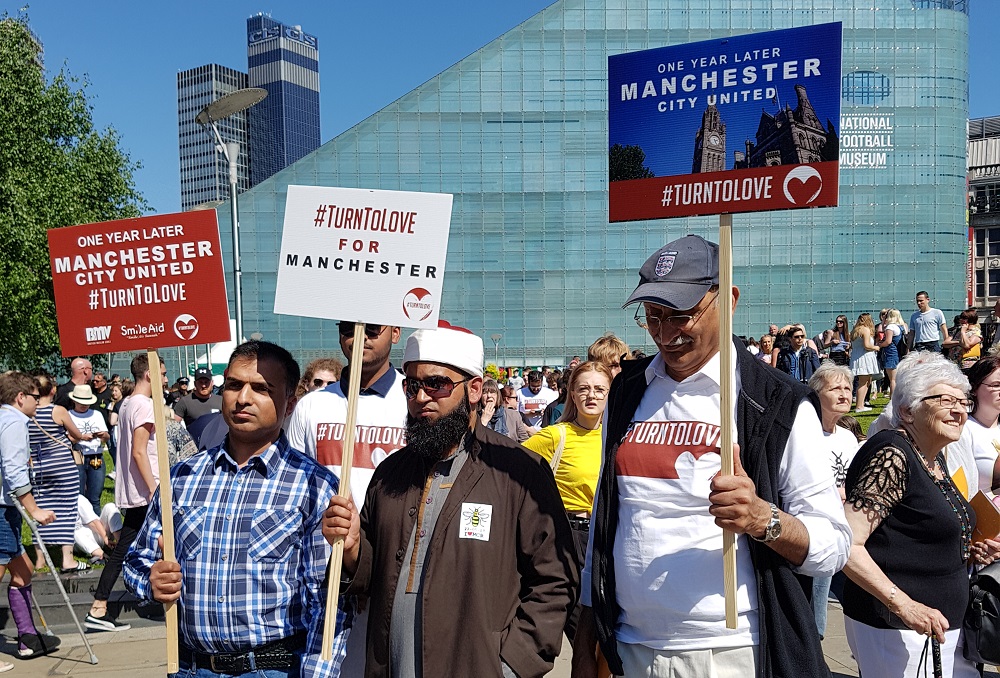 Image © Jeanine De Roy van Zuijdewijn
The 22nd of May was also a moment of reflection. Across the city, "Trees of Hope" had been installed on which people could leave messages, many referring to the "22 angels" that lost their lives. Hundreds of volunteers, all wearing yellow or blue "Manchester Together" T-shirts walked around to assist people. Also, the Red Cross was there to speak to people, as were the "Response Pastors" and those of "Victim Support". Providing a safe and open environment to speak about mental health issues was hoped for. For instance, small signs under the trees were installed reading "It's ok NOT to feel ok".
Clearly absent were any political speeches. The remembrance service in Manchester Cathedral was attended by, amongst others, Prime Minister Theresa May and The Duke of Cambridge, Prince William. The latter was invited to read a verse from the Bible. During the With One Voice event, no political figures were invited to give a speech. There were several representatives from religious communities and the Lord Mayor of Manchester read out a short statement before the choirs started performing.
Image © Jeanine De Roy van Zuijdewijn
The day of remembrance and celebration was ended with several clocks ringing at 22:31, the moment the bomb went off last year. At St. Ann's Square, groups of young people wearing Ariana Grande shirts were crying and holding hands. After the bells had finished, the audience started applauding again. An often-heard phrase that day was: "Yes, Manchester has changed. We are even stronger now". Besides from grieving and remembering those who had lost their lives or were (physically or mentally) injured a year ago, Manchester hoped to show the world Tuesday that it is a proud and united city that also knows how to celebrate life.