Perceptions and Reflections on contemporary policing studies in the Netherlands
In this blogpost we build upon our survey policing studies in The Netherlands to provide a map of researchers in the field of policing studies in the Netherlands and to identify which themes or areas of research are part of this field and what research topics require more attention.
In an interview for Tijdschrift voor de Politie in 2022, Edwin Bakker stated that more than 350 studies on policing have been conducted in the Netherlands in the year. Peter Klerks (2017, own translation) claims that the Netherlands by itself "... has the highest knowledge production per capita worldwide on security, crime and criminal law enforcement". The broad domain of policing studies in the Netherlands therefore has the potential to offer a wealth of scientific knowledge to be used by both police officers and scientific researchers alike. However, clarity needs to be provided on what research is being conducted, and where relevant expertise can be found. The team Policing Studies within the Institute of Security and Global Affairs conducted a survey to close this knowledge gap.
Our Survey

We performed a systematic scan of the websites of Dutch academic universities, universities of applied sciences, research institutes, and consulting firms. Each scholar was reviewed based on their biography and bibliography to determine whether their work was connected to policing studies. On October 11th 2021, a survey was sent out to 301 individuals who fell under our definition of a policing researcher. The survey was closed on February 25th 2022 with a total of 105 people completing the survey in full. The survey consisted of three parts: (1) Personal data on the researchers, such as their position and affiliation, (2) Questions on the research domain of the respondent, (3) Questions on the perspectives of the respondents current research within the field of policing studies.
Dutch Scholars in the field of Policing Studies

Compiling a list of relevant researchers proved more challenging than first anticipated, because not many scholars in the field define themselves as a 'police/policing researcher'. In fact, many respondents mentioned that the police often has a prominent position in their research, but that policing is not necessarily their main focus. The respondents primarily place themselves within academic disciplines such as criminology, political science, security studies, and public administration amongst others. In addition, scholars regularly move universities or departments or change their research focus, meaning that they could be considered a policing researcher for some time, but not their entire career. The only broad exception are scholars operating within the National Police itself, who do clearly identify themselves as policing researchers. Interestingly so, these insights were reinforced when the research results were presented during the conference 'Science and police, a natural connection' on November 3rd 2022. The discussions that followed the presentation of the results, showed that a common understanding of policing studies itself has not been reached.
Research topics in the field of Policing Studies

Many respondents indicated that they have insufficient insights as to which types of topics are researched within policing studies. Nonetheless, they believe that the following topics are featured heavily in policing studies: organized crime and its undermining effects, youth crime, community policing, crises and crisis management, management and governance, criminal investigation, and cybersecurity. Conversely, respondents indicated that more research is needed in the areas of traffic, monitoring/data collection, policing in a multi-actor security landscape, police history, legitimacy, technology, resilience, intelligence, and police violence.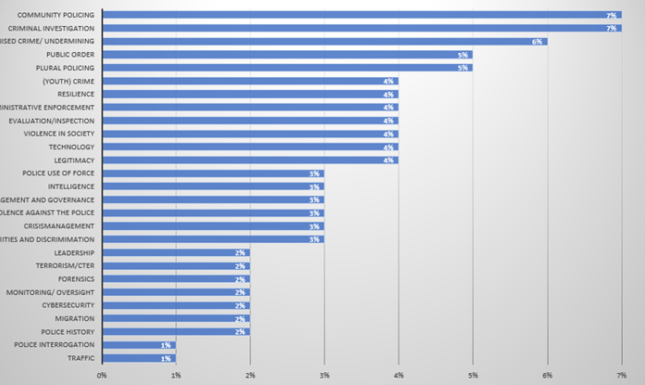 Within the Dutch context, current police research is characterized by fragmentation. There is a broad range of topics that can be included within policing studies and these topics are often looked at by researchers from their own specialized lenses. This finding is in line with previous research showing that the domain of policing studies in the Netherlands has become very broad and that societal changes continuously influence and shape this kind of research. Although the fragmentation of the research landscape holds risks, such as potentially trying to reinvent the wheel every time, we argue that this is often a natural evolution within the world of scientific research. Fragmentation can also have positive results: when different disciplines approach the same research subject from their different perspectives, cross-pollination of scientific insights can occur. Nonetheless, there should be opportunities for those different researchers to come together and discuss their research results and build upon each other's findings. If there are no solid opportunities for actual dialogue with each other, cross-pollination of scientific and practitioner insights will not be possible. This could result in the unfortunate situation where research results or lessons learned within one case do not extrapolate to other cases.
Next steps

In our opinion, a recurrent, historical, and cross-sectional analysis that charts the growth of policing research expertise in the Netherlands is essential. Second, it is important to think about how to expand on knowledge currently held and how to coordinate efforts among different researchers. There were two additional points that weren't addressed in this particular research, but that we want to emphasize regardless. The first is to ensure that knowledge creation truly leads to knowledge application, i.e. there should be regular communication between policing studies and police practice. Two particular platforms stand out: the annual research day organized by the police, the Police Academy and the Ministry of Justice and Security, and the popular-scientific journal Tijdschrift voor de Politie. The second is that there is an underlying tension in policing research, where scholars need to have connections with the police, but at the same time need to be able to work independently and have the possibility to be a critical voice. That also means the freedom to choose topics of research that are perhaps not immediately relevant for policing practices, but have broader relevant implications for the police as a societal organization. As Paul Ponsaers recently put it: "police science is not police property".
Fore more information the full article can be found here (in Dutch).